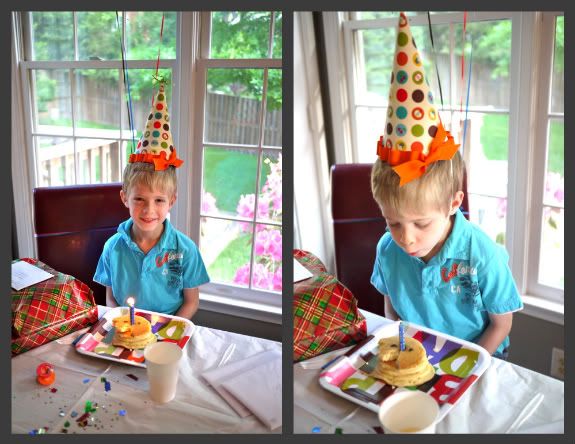 Dear Nikolai-
It seems like just yesterday they handed you to me, wrapped up in a blanket with your little round face peeping out from under a white hospital hat. You had lots of dark hair and the longest most perfect fingers and toes. Your face was red, round and cherubic. The legacy of apple cheeks was visible even then.
I look at you today, long, tall and skinny and wonder where that little round baby went. You've grown 2 inches since school started and are now a whopping 49" tall -- 2 inches taller than the next tallest child in your class. You are probably only in about the 30 percentile for weight however. Kind of amazing when you consider the massive amounts of food you are capable of eating.
For your 6th birthday today, you requested pancakes with whipped cream and penang chicken. You ate both with gusto. Food is definitely an important way to your heart - especially junk food. We had the kitchen all decorated when you woke up in the morning and the look of pure happiness on your face when you saw it was priceless. You told me today was the best birthday you'd ever had. My heart melted.
You've grown up a lot in the last month. You seem more able to control your emotions and disappointments. You help out a lot more and I can see you stepping more comfortably into the role of oldest child. You can also buckle your seat belt all by yourself and that is one of my favorite developments.
You are interested in superheroes, planets, Ghengis Khan, growing seeds and money. Earning money by washing windows or picking up pricker balls in the backyard is one of your favorite past times.
You still love to cuddle in bed at night and talk about all the many thoughts bouncing around your head. And there are many many thoughts in there. You will sit staring out the window for a long time and then you will ask a big question. You are a thoughtful young man.
You are so patient with your little sister Hazel and she adores you. Sometimes you are patient with Luke too - he loves you when you are and when you aren't. He thinks you are the coolest person on the planet and imitates you at every turn which sometimes drives you crazy.
I sure do love you Nikolai. I'm so glad you are a part of our little family. Happy Happy 6th Birthday to you!
-Mommers